Christiansen Law, PLLC | Estate Planning
PURPOSE:
The purpose of an Estate Plan is to protect your family and provide a framework for your intentions in the event of your death. This framework leaves your loved ones with an outline of your desires so those wishes can be honored.
Regardless of age or wealth, an estate plan can be executed to alleviate answers that inevitably will arise. Who should be the caregiver for your minor child(ren)? What are your wishes regarding the funeral and burial? What assets do you own? What debts do you have? Would you like life-saving measures performed? These are difficult questions to address and are not normally known by close-loved ones.
PREPARED:
Many unpredictable events occur in our lives. With careful preparation, we can be ready for those unforeseen events. Putting those last wishes in writing with an Estate Plan is the best way to prepare for the worst. Christiansen Law in Flagstaff, Arizona is prepared to assist Northern Arizona families and individuals with an Estate Plan and address those difficult and unknown questions regarding your assets, wishes, and plans.
Regardless of age and wealth status, everyone leaves behind an estate when they die. Consequently, it is important to state your wishes in the event of death or incapacitation, including how you want your assets distributed. You may also need to state how you wish to be treated in case of incapacitation.
Estate planning involves making these and other preparations, including appointing guardians for any minor children you may have. Besides preserving wealth for your family, estate planning helps avoid unnecessary family conflicts.
However, despite estate planning benefits, many Americans do not have an estate plan. While some people do not want to discuss their death, many have not considered estate planning as they are unaware of its numerous benefits.
Estate planning involves making many decisions about the future which can be overwhelming for most people. Therefore, you need the guidance of a skilled estate planning lawyer.
If you are in Flagstaff, Arizona, and wish to create an estate plan but feel overwhelmed about the whole process, do not worry. At Christiansen Law, PLLC, we are skilled and have the necessary experience to help you create an estate plan, including assisting your family in estate administration. We will help you create an estate plan that suits your needs and protects your family or beneficiaries.
WHAT IS AN ESTATE PLAN?
An estate plan is a collection of legal documents outlining how you want your affairs handled in case of incapacitation or death. It outlines how you want your possessions distributed when you die. However, it also consists of your wishes regarding how and who should make medical and financial decisions on your behalf in the event of incapacitation.
A comprehensive estate plan consists of several essential legal documents, we will help you draft these and other documents necessary for protecting your wealth and distributing it to your heirs or beneficiaries when you die.
THE BENEFITS OF HAVING AN ESTATE PLAN
Since death is inevitable, it is only natural to want to control how your hard-earned assets will be distributed or managed after your death or incapacitation. An estate plan gives you this control and a chance to protect your wealth for your family and other beneficiaries. Some of the major benefits of having an estate plan include:
It helps expedite probate
The court probate process that involves validating a deceased person's will is usually long and costly. Understandably, it can overwhelm a family that is still mourning a loved one. However, an estate plan can simplify estate distribution by helping your family through probate after your death without confusion and delay.
It helps reduce estate taxes
An estate plan can also help you and your family reduce or even get rid of estate taxes. Through estate planning techniques like setting up Trusts, a comprehensive estate plan ensures no unnecessary loss of your assets to the state or federal government in the form of taxes.
It protects your assets and beneficiaries
A comprehensive estate plan can help you secure your assets and protect your family or beneficiaries from lawsuits, bad decisions, creditors, and other uncertain circumstances, including divorce. For instance, an estate plan can help you protect your children and their inheritance by appointing a guardian to care for them if you die or become incapacitated.
Additionally, an estate plan can help preserve your wealth for your family and beneficiaries by protecting it against creditor problems and other law-related liabilities. An estate plan also ensures that an irresponsible heir or beneficiary does not mismanage their inheritance.
By outlining how your affairs should be handled when you die or become incapacitated, an estate plan also helps avoid unnecessary family conflicts, including costly court battles for inheritance. Essentially, an estate plan helps keep the family together even after your death.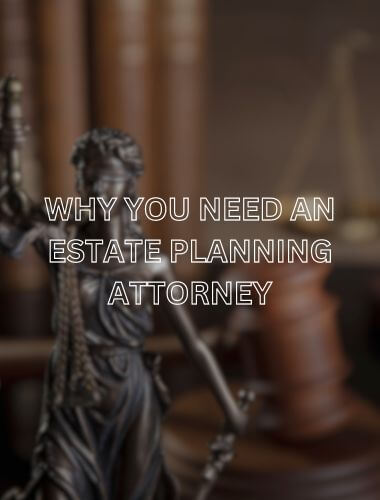 WHY YOU NEED AN ESTATE PLANNING ATTORNEY
Typically, estate planning involves navigating and complying with complex estate planning federal and state laws. Understandably, it might be hard for you to understand all the necessary rules and procedures without a legal background. Consequently, you need the guidance of a skilled Flagstaff estate planning attorney to avoid making common and often costly estate planning mistakes.
Estate planning also involves dealing with other parties, including financial planners, insurance companies, and creditors. An estate planning lawyer will help you communicate with these parties while protecting your estate planning goals and needs. 
An estate planning lawyer will also guide you when making difficult decisions, including appointing beneficiaries and guardians for your minor children. The lawyer may also be involved in estate distribution after your death, including handling life insurance policies and ensuring the transfer of assets to the rightful heirs.
Generally, a lawyer will help you prepare an estate plan that aligns with your goals and needs and those of your family but is also easy to implement.
Get Help Today – Flagstaff's Top Family and Estate Lawyer
CONTACT A FLAGSTAFF ESTATE PLANNING LAWYER
Considering how legal and non-legal conflicts over property can easily break a family, having an estate plan is one of the best gifts you can leave to your family when you die. An estate plan also helps your family expedite probate, reduce taxes, among other benefits. If you are in Flagstaff, AZ, we are here for you. At Christiansen Law, PLLC, we will help you create a comprehensive estate plan that protects your family and assets in the event of your death or incapacitation. With our broad experience and skills, we are committed to help you protect your legacy and achieve your estate planning goals. Contact us today to learn more about our services or schedule a visit.